Delicious, fresh and tasty.
Delicious Recipes
No Oven Decadent Chocolate Cake.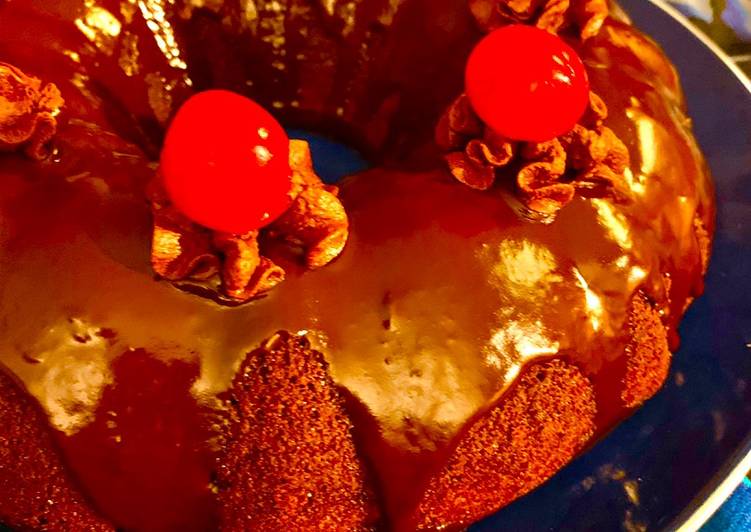 You can have No Oven Decadent Chocolate Cake using 16 ingredients and 14 steps. Here is how you cook it.
Ingredients of No Oven Decadent Chocolate Cake
You need of Dry Ingredients for the Cake:.
You need 1.5 cups of whole wheat flour.
You need 4 tbsp of cocoa powder.
You need 1 tsp of baking soda.
You need 2 pinches of salt.
You need 1 cup of caster sugar.
Prepare of Wet Ingredients:.
You need 1 cup of water.
Prepare 6 tbsp of flavourless oil (i used canola oil).
It's 4 tsp of vinegar.
You need 2 tsp of instant coffee powder.
Prepare 2 tsp of vanilla essence.
You need of Chocolate Frosting:.
Prepare 200 grams of dark chocolate.
Prepare 250 ml of fresh cream.
You need as needed of additional cream to make a chocolate drip frosting.
No Oven Decadent Chocolate Cake step by step
First mix whole wheat flour, cocoa powder, baking soda, salt. If using regular sugar, measure it and powder it. Sieve all the ingredients in a bowl..
Mix all the wet ingredients..
Grease a 6 inch square or circle mould. You can also use a cup cake tray. I have used 8" Bundt cake pan..
Before you mix all the ingredients, it is important to pre heat the kadhai. Take a heavy bottom kadhai, add salt at the bottom & keep a stand of at least 1 inch height. Cover it & Heat on high flame for about 5 to 7 minutes..
When the Kadhai has been pre heated, mix the dry ingredients into the wet ingredients to make a smooth batter. Make sure you do not over mix the batter..
Pour this batter immediately in to the baking / cake tin & place it instantly on the stand in the Kadhai. Cover it..
Cook on medium high flame for the first 10 minutes & then reduce the flame to low and cook for the next 20 to 25 minutes. This time depends on the size of the tin. After 30 mins, check the centre of the cake using a skewer or toothpick. If it comes out clean, that means the cake is ready..
Remove from the Kadhai and let it cool for about 5 minutes. Brush the top with milk, this will soften the top. Cool the cake further and then unmould and cool on a wire rack. Cover it using a muslin cloth so that it doesn't dry out..
While the cake cools down, make the ganache for frosting. For the frosting - first heat the fresh cream and pour it on chopped chocolate. Mix it so that the chocolate melts and the mixture becomes smooth. Divide this into half. Put the half portion in the fridge to chill to make a whipped ganache..
To the other half, add more cream to make a liquid glazing / drip ganache..
Pour this liquid ganache on the cake. Remove the other half ganache & using a whisk or beater, beat it to make a light whipped ganache. Frost it on the cake and garnish with some cherry or fruits of your choice..
You can refrigerate the cake before serving. If you want, you can also soak the cake with some sweet coffee syrup before frosting..
.
Enjoy with tea or coffee!.
')